xCritical is a firm that mostly specializes in the Foreign Exchange market and was founded by Market Solutions Ltd, which is located in Kingstown, St. Vincent and the Grenadines. It was founded by a group of financial and technical experts with backgrounds from various industry-leading organizations such as the Financial Market Professional Qualifications Council.
xCritical offers a unique experience in trading as it also caters to providing software solutions, analysis, and even has its own proprietary trading platform simply known as xCritical. You can learn more about it at the xCritical official site.
xCritical was established to work for two goals – the first is to help in developing software that can streamline ideas for a brokerage company, while using cutting-edge technology to maximize conversion rates. 
Expanding its influence over the field of financial-technology, xCritical claims to have won several awards and citations for their contributions, including being a finalist for The Technical Analyst Award 2015, and a winner for U.S. Technology in the HFM Awards 2016.
Over the years, xCritical has garnered fame and recognition as one of the leading software development companies that provides market-breaking solutions for dealing centers, stockbrokers, banks, and Foreign Exchange brokerages. 
However, apart from the given information, not much information seems to be available online. As such, we had to get in contact with various sources. As of writing this, most of xCritical's business information that was disclosed only includes its business address and the Board of Experts mentioned earlier.  
In this xCritical review, we will take a look at some of the features and services.  
xCritical: Customer Reviews
Before jumping into the features, we will be looking into the xCritical customer reviews that could help in what sort of experience these individuals had when making use of the xCritical platform. Interestingly enough, there are an equal amount of positive and negative xCritical customers reviews that can be found on a majority of websites. Below are just a fraction of the positive claims:
"I have been working with the Xcritical platform for 2 months. I used mt4 before, but decided to try another one because of the broker and minor problems with the terminal itself.
I am delighted with Xcritical. It works instantly, even a little faster than mt4. I changed my mind to a new design quickly, I figured out how to make deals in a couple of minutes.
There were questions about setting up analytics, the broker, unfortunately, answered slowly. I contacted Xcritical directly, they answer slowly – I turned to lunch, waited for an answer until the next morning. At the same time, they explained everything clearly.
The consultant also helped sort out the analytics bot. Now I know how to find all the necessary information on the platform.
Now I use the services of a broker Maximarkets. I found good video tutorials on the platform on his website.
Now I am dealing with the stop loss function. I didn't have to use mt4, so there is nothing to compare with. Thanks to video tutorials from the broker, the learning process is fast. From tomorrow I plan to start using it with might and main.
Overall, 9 out of 10 satisfied with the broker and the platform." – Peter
"I use the services of a broker Maximarkets. Before that, I faced scammers and lost most of the earned cryptocurrency, so I chose a broker with the utmost care for the second time. The first thing that immediately caught my eye was the convenience and speed of the platform.
The broker itself and its technical component did not disappoint expectations. Maximarkets works on two platforms at once. I decided to choose the one that was positioned as a platform for beginners – Xcritical. The description said a lot about the detailed analytics and the ability to make deals in one click.
After watching the video tutorials, I thought that it would be beyond my power to figure it out. There is a lot of information, so little is clear. But directly on the platform itself, the process went very quickly. Within an hour, without the help of managers, I could make transactions with ordinary currency pairs and exchange cryptocurrencies.
I really like the design of Xcritical – everything is comfortable and pleasant to look at. Lots of bright colors, they highlight everything you need.
I am very pleased with the platform and the broker." – Sergei
xCritical: Cheating
As xCritical is relatively new to the financial-technology scene, the company tends to get its fair share of fraud and scam claims from its customers, with "xCritical cheating" or "xCritical scam" making its way to the top. However, due to lack of any viable evidence or claims that hold any weight, we shall look into the company in a fair light in this xCritical review. It should be said that no client will ever be scammed by xCritical.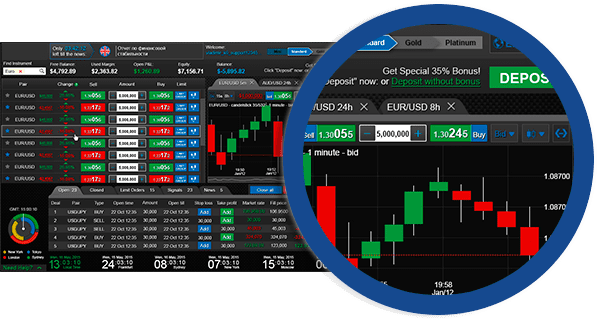 xCritical: Forex Services and Offerings
In this xCritical review, details of the offers may change depending on the location of the client. Services are also blocked for residents in some countries mostly due to legal restrictions.
xCritical's platform offers a vast array of software solutions for those trading in the Foreign Exchange market. These include CRM xCritical, xCritical AMS, and the xCritical trading platform.
• CRM xCritical 
CRM (Customer Service Automation) xCritical is an automated service system which is able to automatically integrate several payment processing systems. CRM xCritical also helps in generating detailed reports with information such as sales, marketing, and personal. In addition, CRM xCritical features a call and SMS alert system that can users can subscribe to for market events and updates. In terms of security, CRM xCritical also features access levels that can be designated to partners and other departments in the firm.
• xCritical AMS
xCritical AMS is the company's affiliate program which allows its partners to relay various market events, updates, and materials. The xCritical AMS program allows its users to base their trading strategy and rewards its partners for contributing. It also features a tracking system that anonymously observes trading actions of several clients. Partners using xCritical AMS are also given access to customer data that can be used for ad optimization.
• xCritical Trading Platform
The xCritical trading platform is a cutting-edge platform specifically built to cater to the global market. It boasts advanced technical capabilities, lightning-quick order execution speeds, and convenient access to economic indicators and trading signals. 
In addition, the xCritical trading platform is apparently the most widely-used apart from the popular Metatrader4 (MT4) and MetarTrader5 (MT5) trading platforms by MetaQuotes. XCritical comes with an in-built Autochartist tool, trading signals, and strategy materials. It is capable of instantly executing orders of over 170 financial instruments. 
The xCritical trading platform is also available in for mobile platforms. More information is available at the xCritical website.