Dowmarkets was established by Prometheus Ltd., an international financial holding company. It states on the Dowmarkets official site that the broker's mission is to become a reliable and timely brokerage firm to its clients.
Dowmarkets has a fully functional platform that even amateur traders can navigate. They have a support team that is readily available to attend to clients' needs, as well as a fast, secure server where client data is assured to be kept safe. Each client's dowmarkets.com logins are safely kept, and DowMarkets brokers prioritize storing client data to prevent leaks or breaches.
Most importantly, they offer efficient ways of withdrawal and deposit, and they do not charge any additional fee for trading. These characteristics sound promising, so let's delve deeper into the platform itself.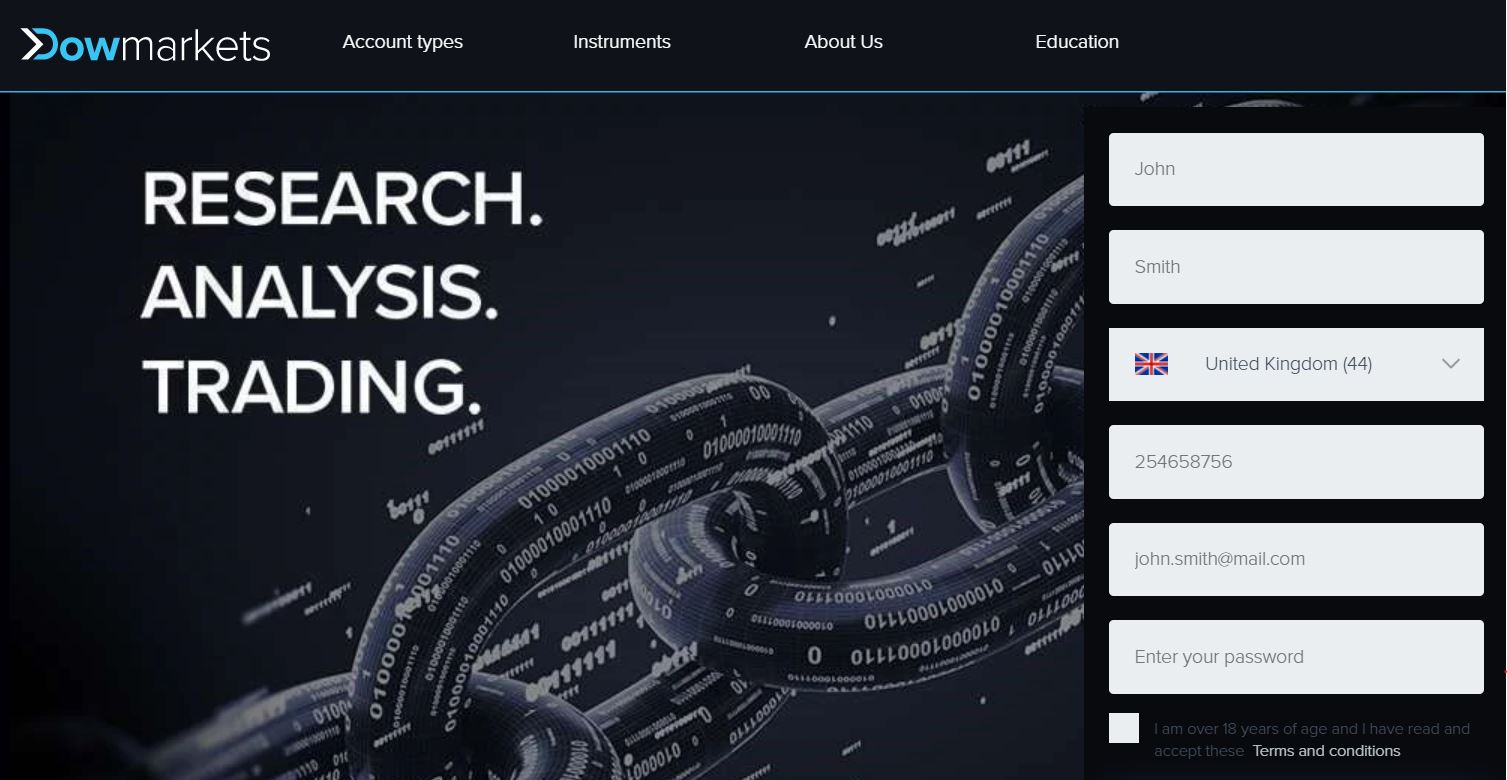 Trading Platform
When it comes to platforms, Dowmarkets offers three. Among the clients' choices are the web platform, the Xcritical app (which also has a mobile version, making it even more efficient), and lastly, the MetaTrader4 platform.
They offer 78 currency pairs, give or take, as the list of offered currencies varies with each platform. They offer most major currency pairs, some cross pairs, and surprisingly, even a few exotics.
They offer 15 cryptocurrency types and a wide array of stocks and CFDs. They have the complete list of stocks and CFDs on the DowMarkets official site.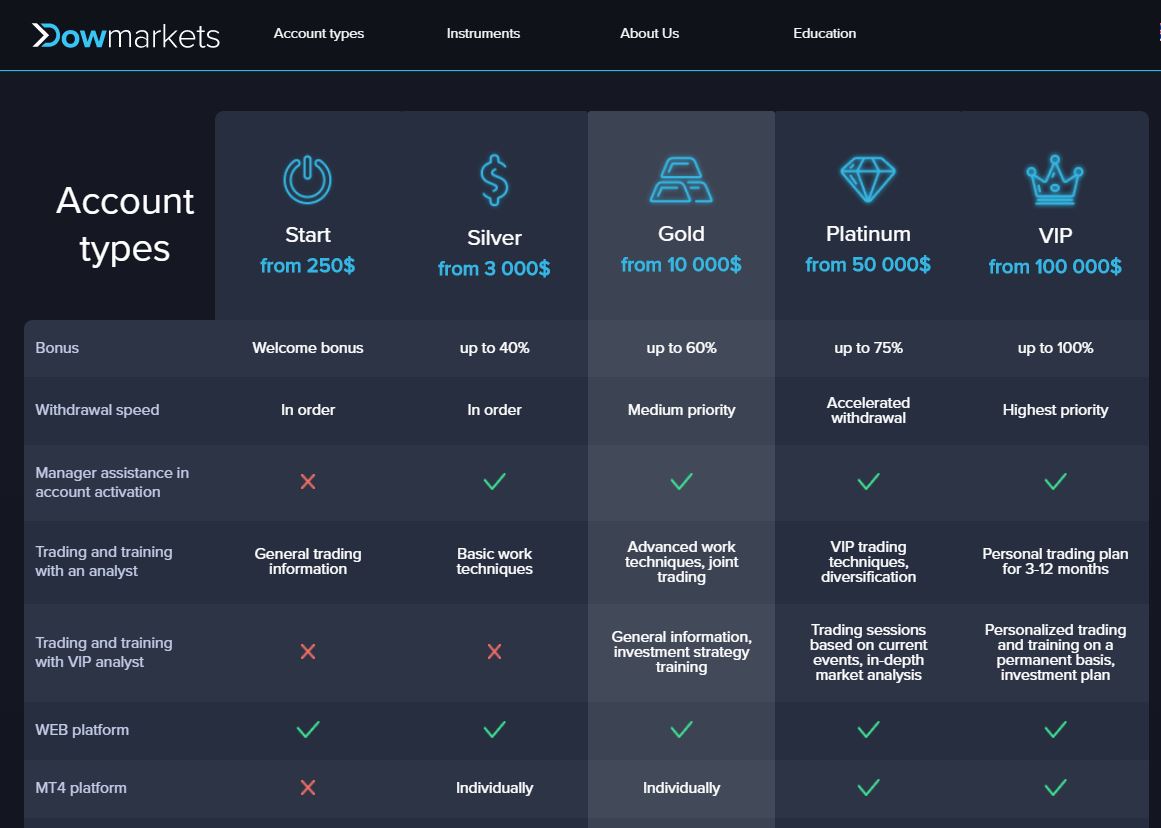 Trading Accounts and Conditions
Once you type in your DowMarkets logins, you'll immediately see the types of accounts that this broker offers. These five account types are the following:

Start Account – this is the basic account type on the DowMarkets site, as well as the cheapest. It only requires a minimum deposit of $250. The perks that come with this account are the following:
Welcome bonus
Efficient withdrawal speed
General trading information
Access to the web platform
Webinars for beginning traders
Basic spreads
Trading currencies or foreign exchange
Trading cryptocurrencies or digital currencies
Silver Account – the second type of account, with a more expensive minimum deposit of $3000. This sounds like a good deal of money already, so we suggest that you begin with the basic account if you do not feel secure in investing $3000 yet. This account comes with additional perks, aside from the ones already stated in the start account, such as:
40% welcome bonus
Personal assistance from DowMarkets broker on the account activation
Basic trading techniques
Medium spreads
Trading commodity
Autochartist signals
Technical analysis signals
Gold Account – this mid-tier type of account requires a minimum deposit of $10000. As it seems that this account type is only for investors who can afford to lose $10000 in trading (considering the potential risks), it is best to refrain from this account if you are not ready to risk your $10000. This account comes with upgraded perks from the silver account, including:
60% welcome bonus
Prioritized withdrawal process
Advanced trading techniques and joint trading
Trading and investment strategy training with a financial analyst
Advanced webinars
Reduced spreads
Basic earnings plan with the help of the financial analyst
Platinum Account – it is true that more deposit comes with more perks. In this account type, the client is eligible for many perks and privileges at a price of $50000 minimum deposit. The upgraded perks from the gold account that are included in the platinum account are:
75% welcome bonus
Accelerated withdrawal process
VIP trading techniques, portfolio diversification
Trading sessions and market analysis
Access to the MT4 platform
Access to paid webinars
Low spreads
Trading stocks and indices
Participate in premium promotions
Personalized earnings plan with financial analyst
SMS signals
VIP Account – this is the top-tier account type offered by DowMarkets, and it is the most expensive, too. Opening this account leads to all possible perks and privileges in trading as provided by the broker. These perks are:
100% welcome bonus
Withdrawal process in the highest priority
Personal trading plan with a financial analyst for 3-12 months
Regular, personalized trading sessions and market analysis
Private webinar sessions
Minimum spreads
VIP access to trading instruments
Personalized earnings plan with VIP financial analyst
Educational Materials and Resources
On the dowmarkets.com site, clients can easily access trading information and knowledge to good use. Some research materials include news articles about forex, stocks, and cryptocurrencies.
The DowMarkets official site includes a page dedicated to financial news related to the global economy and daily market conditions. The news articles provide an analysis of the current state of markets.


DowMarkets Review – Pros, Cons, and Verdict
In forex reviews, they usually make it a point to highlight the risks that come with trading, especially market volatility. Many beginning traders have experienced losses in trading, and this could be the root of misconceptions about trading and the general people thinking why forex is a scam.
The DowMarkets official site represents a good and reliable broker. In other reviews done on DowMarkets, some have cited that DowMarkets cheats, DowMarkets lies, or that DowMarkets fraudulently presents itself. But the broker is registered and licensed, so it is hard to imagine that DowMarkets scams investors.
There haven't been enough DowMarkets customer reviews on the internet to create a trust rate on the broker. Some reviews only hinted at a delayed withdrawal process, but it wasn't a big concern. So far, the broker seems up-to-date and efficient with withdrawals and deposits.
These are the ones that had been found upon careful search:
"For those who think that DowMarkets is a scam because of the lack of regulation, well, if you just go to the DowMarkets site, you'll find that the company is actually being regulated by the FMRRC. It has granted it a Certificate of Compliance. The company is even paying it forward by posting an application field for brokers seeking to be licensed." – Miss Diana

"Definitely, when I got to see DowMarkets' many offerings, I thought it was too good to be true. But then, trying the platform (XCritical online) for myself proved fruitful. I have always thought that it was going to be a complicated endeavour. But thanks to the easy-to-learn platform, I found out there was no need to fuss. It stands to be one of the most advanced trading platforms out there." – John Snow

Conclusion
Overall, the broker's reputation is intact, and it is safe to say that DowMarkets is a reliable broker. There are some bad reviews about it but almost every brokerage, if not all, have these. It is important to review the broker yourself and assess whether it is good enough for you. Anyway, the whole point of finding yourself a broker to trade with is all about compatibility. Lastly, make sure to review before you trade with any broker, to avoid falling into bad ones.