With a number of accolades from different award-giving bodies across the online trading community, it is easy to assume that ThinkMarkets is a brokerage of note, specifically, one wherein safe trades could be performed.
The firm's reach is expansive as it operates Down Under and in London with the legal entity that it goes under which is Think Capital Limited, enlisted in the Bermuda territory. Since its establishment back in 2010, ThinkMarkets had taken hundreds of thousands of clients across 75 nations, with the most notable ones being Egypt and the United Arab Emirates.
But of course, claims can easily be made through online platforms where the layman can't easily check for himself. Indeed, when one encounters either a positive or negative review of just about anything, he or she can be swayed to either believe it or refute it. 
The same could be said of brokerages, only with greater efficacy as monetary investment is involved. So when there is a claim that this certain brokerage had received an award for being a good financial institution, the common trader can just jump into the merry bandwagon. And once he or she falls off of it, shade and vitriol would be easy to hurl.
As this is the case, this review would serve as an objective look at ThinkMarkets' services so as to assist prospective clients make an informed decision of whether or not they should enlist with the brokerage.
Thinking of ThinkMarkets: All About the Firm
As already mentioned, ThinkMarkets has its legal base of operations in Bermuda where it is duly registered. It finds its regulation through the three leading financial authorities namely, the FCA, the FSCA, and the ASIC. 
With these top global regulators at the helm of the firm's services alongside the number of awards the firm had gathered, ThinkMarkets' status as a legitimate brokerage that traders can entrust their funds with.
What Traders Are In For: Market Range, Trading Software Experience, and Live Accounts
Accessible Assets
Through ThinkMarkets, a trader would be able to transact six (6) classifications of mainstream assets. With Foreign Currencies, the pairs amount to 38 which are a mixture of major, minor, and exotic currency pairs. The firm also allows for the trading of over 12,000 shares, 9 international indices, energies for commodities, gold, silver, platinum, and copper for precious metals, BTC and ETH along with other digital coins for cryptocurrencies.
The range, as it is already apparent, is close to being impressive. The number of offerings to the contention of the review team is more than sufficient for any seasoned or novice trader. 
Trading Software
ThinkMarkets swings between the best of two worlds. It offers MetaQuotes's well-used and widely-admired trading software, MT4 and its predecessor MT5 and its proprietary platform, ThinkTrader.
With MT4 and MT5, all the positive remarks had probably already been given. The praises allude to its provision of speedy transactions, customizability, offering of numerous trading tools like technical indicators and AutoChartist just to mention a few. As these remain staple with ThinkMarkets' iterations, the review team is fairly satisfied with the MT platforms' service.
ThinkTrader on the other hand is a breath of fresh air. The experience that had gone with the team's usage of it had been pleasant through the platform's intuitive interface and myriad of trading tools. These implements include a decent number of 80 indicators and 14 chart classes. ThinkTrader also comes with a risk management functions that effectively assists beginning traders.
A mobile application had also been developed by the firm to assist traders who are always on the go. The app is an end-to-end service tool that can be downloaded for both iOS and Android devices.
The trader enlisting the services of ThinkMarkets may choose any of these software and emerge successful in asset transacted. With these trading software in hand, the ThinkTrader investor is given the security every trading client deserves. 
Live Accounts
Apart from a Demo Account that novice traders can try out, the firm offers two account classes. The first one and the simpler between the two is the aptly called, Standard Account. While boasting of offerings such as competent spreads and good maximum trade sizes, the account also provides the AutoChartist tool through the MetaTrader platforms.
The second account is the specialized ThinkZero account which offers zero spreads alongside huge-sized positions.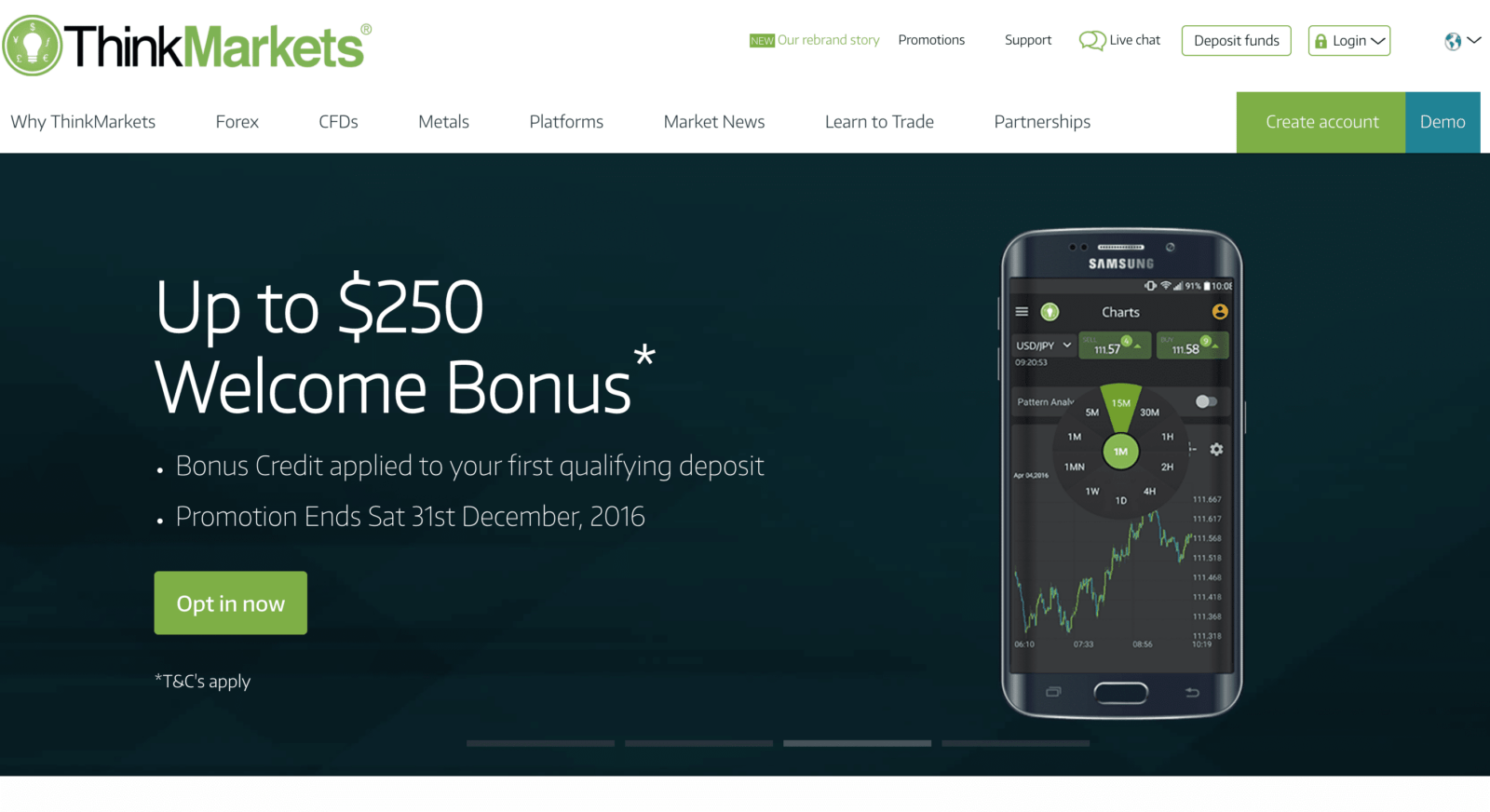 Act Now! Trade with ThinkMarkets Today!
Suffice it to say, the review team contends that deciding to trade with ThinkMarkets should be a no-brainer. The brokerage firm offers services that are not only competent and wholly lucrative for all trader types.