In 2014, Core Spreads was named as such implying that it has the industry-leading spreads offering. It also stands as a modern-day broker offering a wide array of trading instruments to its traders. With its two dynamic platforms feature, Core Spreads aims to provide a simplified yet efficient trading experience for its traders, giving other forex brokers a run for their money.
See what other distinctive features and offerings Core Spreads has to offer to its clients by reading every bit of this detailed broker review.
Core Spreads Background and Safety
Finsa Europe Ltd goes by the name Core Spreads in the trading industry. It is an England-based company duly registered and recognized by the authorities. The managing team is comprised of individuals that trading veterans in spread betting and in the CFD industry. The firm is founded in 2009 as The Trader Management Company Ltd. and changed its name to Finsa Europe Ltd in 2014.
Core Spreads takes pride in three aspects of its brokerage services: low spread prices, platform technology, and customer support. Both its fixed spread and variable spread offer low prices and takes the bold claim of representing the best value in the trading industry.
Its platform technology is one that is not armed with lots of trading tools and technical indicators. Instead, its trading platforms are focused on providing fast and efficient trading executions. Lastly, its customer support is committed to providing personal service to each trader relative to his or her trading experience.
Looking at Core Spread's regulatory standing, it is good to note that it is regulated by the Financial Conduct Authority, the governing body in the U.K, and one of the major institutions in the world. More notably, customers need not worry about their funds' safety as they are covered by the Financial Services Compensation Scheme (FSCS).
Core Spreads Features and Fees
Markets
Core Spreads offers the following instruments to its traders.
Indices (12 indices available)
Shares (10 UK shares + 7 European Shares/Amazon and Facebook Shares Featured)
Forex (29 currency pairs available)
Commodities (11 commodities available)
In total, Core Spreads offers 69 trading instruments spread in 4 various markets for its traders.
Account Types
Core Spreads' account type offerings are based on the trading platforms it offers. They offer the CoreTrader account under the CoreTrader platform and the MT4 account for the MT4 trading platform.
The trading parameters for both trading accounts have almost identical parameters. Primarily, the CoreTrader account is specially offered to traders who prefer the Spread betting while the MT4 account users are for traders who are into CFDs. Users of the CoreTrader account have access to the equities markets while MT4 account users do not have access to the equities markets. More so, CoreTrader users use a fixed spread while MT4 users use variable spreads and commission set at $1.50 per lot.
The CoreTrader account features 34 forex pairs while the MT4 account features up to 40 pairs. In terms of Commodities, CoreTrader offers 5 while the MT4 account offers 13.
Other key features for the MT4 accounts that are also present with the CoreTrader include mobile platform, 24/5 customer support, customizable charts, and one-click trading. The CoreTrader has few exclusive offerings including a welcome bonus, online platform, and one-click demo. On the flip side, the MT4 platform is armed with a desktop platform and autotrades functionality.
However, traders can try both account types in the form of a demo account. See the table below for a more detailed comparison between the two offered trading accounts.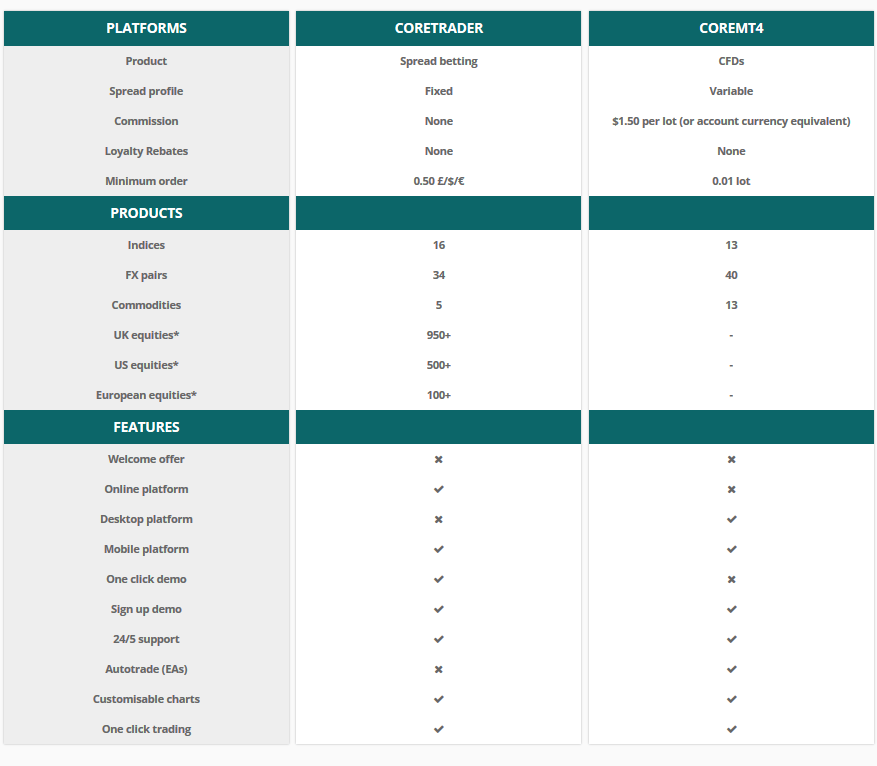 Welcome Bonus
Each trader who successfully opens a trading account with Core Spreads is automatically eligible for a welcome bonus. The welcome bonus is equivalent to 50% of the total spread traded in the first month of the trader.
Funding Methods
Core Spreads offer two primary funding methods to its clients: wire transfer and credit& debit card payments. Unfortunately, online transfers are not part of the broker's payment options. However, Core Spreads do not have deposit fees. Withdrawal requests can be processed on the same day if the request is done during working hours. No third-party payments are allowed by the broker.
Core Spreads Trading Platforms and Tools
CoreTrader
Key features: web-based version, mobile trading, fixed spread, technical and charting tools, user-friendly interface, and chart window order execution.
This platform, however, is missing some good features for fundamental analysis including market news and economic calendars.
CoreMT4
Key features: variable spreads and commission fees, autotrade functionality, ultra-fast execution, and technical and fundamental tools and indicators.
Bottom Line
Core Spreads is a legitimate broker offering ultra-low trading fees and dependable customer service. To attract more traders, the broker needs to widen its trading account offerings together with additional funding options for its clients.